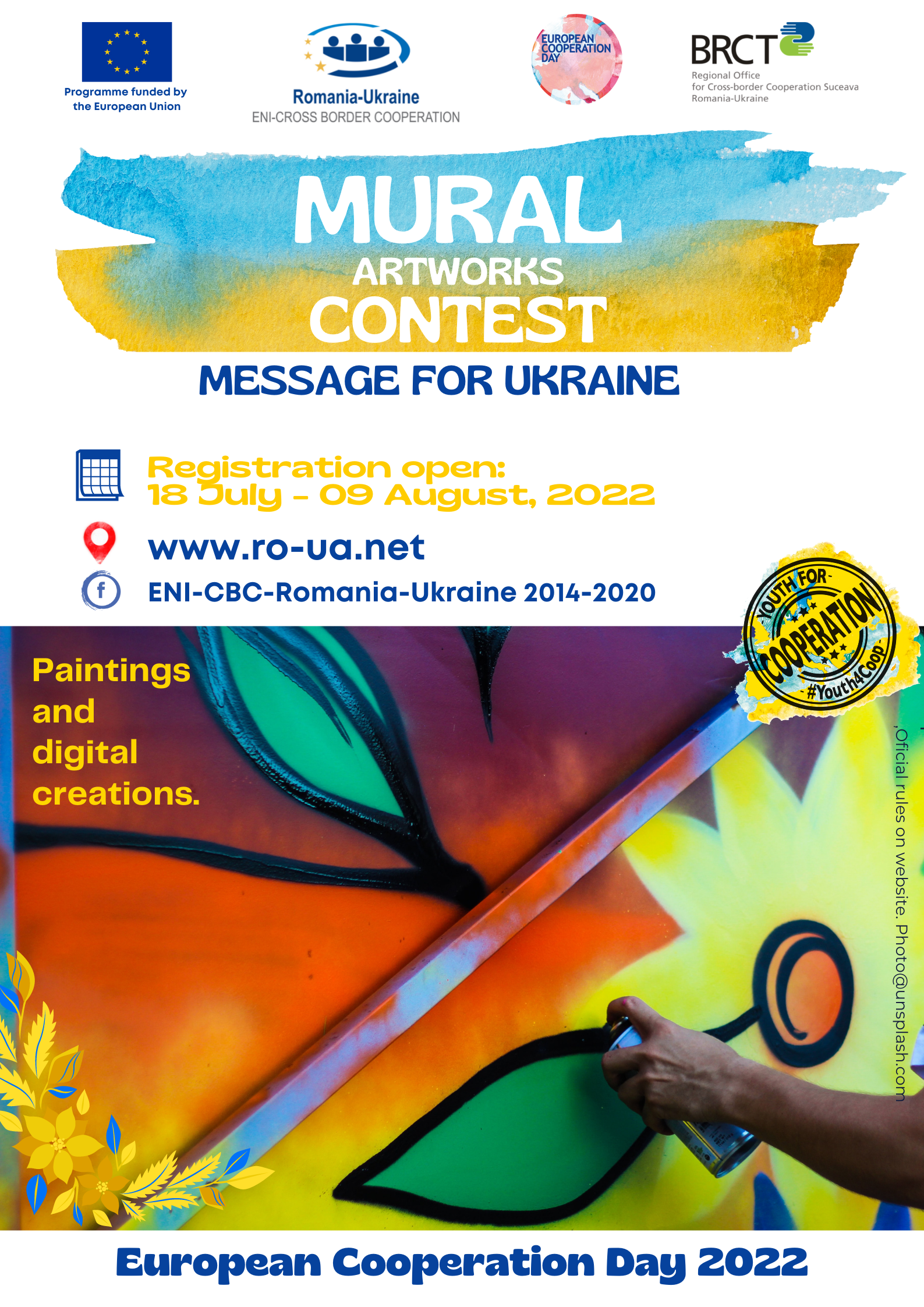 "Message
for
Ukraine"
-
COMPETITION
of
artworks
for
MURAL
Are you young, passionate about art in all its forms and want to send a message of support for Ukraine and the Ukrainian people?
Register in the competition organized for the European Cooperation Day 2022!
The Joint Operational Program Romania-Ukraine launches a contest of paintings and digital creations named "Message for Ukraine", open to all young people in Romania and Ukraine, aged between 14 and 30, who want to share their creative ideas and artistically illustrate the theme of solidarity.
The competition aims to identify original and expressive works of art that picture boundless help, empathy for the Ukrainian people and hope for the future. #standwithukraine.
The winning artwork will be reproduced on a wall on one of the buildings of public interest in Romania in a contemporary mural painting of street art and will become the emblem of our Program this year.
Registrations period is between July 18 and August 9, 2022, and 6 artworks will be pre-selected to enter the competition for the final vote of the public.
Participants can apply by filling in the registration form on the Programme website www.ro-ua.net, in Romanian or Ukrainian language, together with uploading the artwork, either painting or digital creation, and complying with the competition regulation. Young people between 14 and 18 years old will be able to participate only with the written consent of a parent / legal guardian.
Regulation and calendar HERE.
Registration form HERE.
The finalists will receive prizes consisting of modern gadgets: 5 x smart watches and the big prize - an electric scooter. The author of the winning artwork will be able to participate in the execution of the mural painting, and we, the organizers, will make sure that his message will reach the Romanian-Ukrainian cross-border community, but also the European one.
Each year, in September, the Managing Authority (Ministry of Development, Public Works and Administration) and the Joint Technical Secretariat (Suceava Regional Office for Cross-Border Cooperation) for the Romania-Ukraine Joint Operational Program mark the European Cooperation Day to promote the benefits of cooperation and projects impact in the border areas, alonside with the whole community of Interreg programmes funded by the European Union.
This year, the Joint Operational Programme Romania - Ukraine will celebrate the European Cooperation Day through a manifesto event dedicated to Ukraine and the Ukrainian people, aiming to send a message of solidarity in a unique format, through contemporary mural art.
Under the call of #standwithukraine and with the involvement of youth from Romania and Ukraine #youth4coop, the manifesto event "Message for Ukraine" aims to highlight the support for Ukraine shown by cross-border cooperation community and the importance of young people in the context of the European Year of Youth 2022.